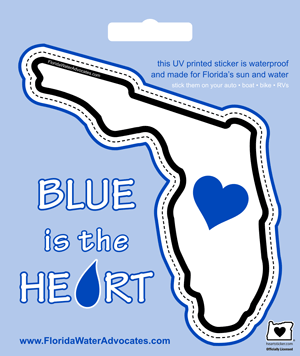 Blue is the Heart of Florida Sticker
In November 2014, Florida Water Advocates launched the "Blue Heart" campaign. This simple image is intended to capture how we feel about our state, as well as, to remind residents and visitors of what makes Florida such a special and unique place to live and play . . . WATER. In partnership with Chris Bucci, a Portland based entrepreneur who several years ago launched the enormously successful www.heartsticker.com, we designed the Florida heart sticker with the hope that it will capture the imagination of those who love Florida.
Like many forms of art, the sticker is intended to allow its user to convey whatever message speaks to them. "I love Florida," "Water is the heart of Florida," "I love Florida's Waters" . . . regardless of what it means to you, it will convey a positive feeling that can speak to others. We at FWA hope that this elegant image will serve as a reminder of the importance of the element which binds us. In time, as they become a common fixture to cars and boats alike, the image will serve as tangible evidence to policy makers at all levels of government that we care about water and support increased funding for its protection and responsible use.
Stay tuned . . . In coming months we will update the list of locations where the sticker can be obtained. We also plan to add other products (T-shirts, coffee cups, mouse pads, and more!) branding this image for your use and enjoyment.
Thanks for your support!