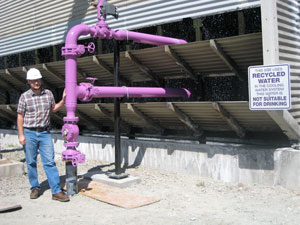 Our Board is composed of individuals who have a wealth of experience with water issues in Florida, local government, and with Florida's legislative and agency processes. We serve without compensation, and bring to the organization a passion for making things happen.

IRELA BAGUÉ
Irela is an experienced bi-lingual public affairs consultant and principal for Bagué Group a full service consulting firm with over 20 years of experience in Florida with a broad range of experience in the areas of business development, public infrastructure, transportation, water & waste water resources, sustainable "green" initiatives, public involvement services, market research and government affairs.

In 2003, Bagué was appointed to the South Florida Water Management District Board by Governor Jeb Bush, where she held the position of Board Vice-Chair until April 2007. Ms. Bagué was responsible for establishing policy in the areas of water resources development and regulation, flood control, water quality protection and natural systems restoration primarily with a focus on the restoration of America's Everglades.

As a former state appointed official, Ms. Bagué has earned the respect of clients and policy makers alike. She is known for her in-depth understanding of the political process and for her critical insight and clear and straightforward communications style making her a credible and engaging spokesperson.

Ms. Bagué has been an advocate of alternative water supply technologies and water infrastructure and has provided key testimony on behalf of the State of Florida to the United States House of Representatives Sub- Committee on Water & Power.

Irela also served as Chair of the Miami River Commission and was instrumental in gaining public support for the multi-million dollar dredging project to deepen the channel for larger vessels to help increase Miami's marine and shipping economy.

Her career highlights include working for National Audubon Society's Florida State Office as the State's Public Affairs Coordinator managing outreach campaigns to promote support for Everglades restoration.

Ms. Bagué has been a contributor to The Miami Herald's Editorial section on water related issues and was recently interviewed in the following WPBT special report on Miami-Dade County's neglected water and sewer system that is estimated to cost the tax payers billions of dollars over the next decades.
SEAN STAFFORD
Sean Stafford, co-founding partner of Advantage Consulting Team, has over 15 years experience as a lobbyist and has developed a reputation for delivering results for his clients, while representing them with integrity and professionalism. Over the last decade, he has provided political and strategic advice to some of the nation's largest and most prestigious corporations, helping to navigate them through the complexities of Florida state government. Mr. Stafford's approach is bi-partisan. During the last 3 election cycles, he fundraised and provided political and strategic advice for a number of state officials in Florida.

Mr. Stafford represents his clients on a diverse range of subjects, including agribusiness; alternative and renewable energy; forestry management and carbon credit trading; Everglades restoration; community association management; economic development; tax incentives; financial services; securities and broker-dealer issues; tort reform; telemarketing; boxing promotion; insurance (including property/casualty, homeowners', life, long-term care, workers' compensation, and credit life); consumer privacy; telemedicine; state agency rulemaking; Chapter 120 state agency authority; state contracts and bidding; technology; licensing; printer cartridge re-use; eminent domain; tobacco settlements; and state and local taxation.

In 2008, Mr. Stafford was tapped by the Governor to be a Delegate on the Governor's Trade Mission to Europe. He was also appointed by the Florida Chief Financial Officer to the "Safeguarding our Seniors" Task Force, which was established to better protect Florida seniors against financial fraud. Mr. Stafford received his Bachelor of Science degree in Political Science from Florida State University in 1995 and was awarded the prestigious Academic Leadership Award.

A lifelong Tallahassee resident, Mr. Stafford is an active member of the Florida Association of Professional Lobbyists, the Seminole Boosters, The Florida State Alumni Association, The Governor's Club, and Killearn United Methodist Church. He is married to Tallahassee native Susan Duggar Stafford, and they are the parents of three children.
STEPHEN "PEPPER" UCHINO
Stephen "Pepper" Uchino brings nearly 15 years of experience to Florida Water Advocates. Prior to joining the Anfield Consulting Group in 2015, he served as the Staff Director for the Florida Senate Committee on Environmental Preservation and Conservation and the Select Committee on Indian River Lagoon and Lake Okeechobee Basin.

Throughout his almost seven-year tenure as a policy expert for the Florida Legislature, Pepper's work touched on nearly every aspect of Florida's environmental policy. During this time, he gained invaluable experience in navigating the inner workings of the Legislature to shepherd bills and appropriations through the process. His opinion was sought by Senators, Representatives and staff on every major piece of environmental legislation filed each year, and he was the primary Senate author of the 2015 comprehensive water bill, which was signed into law in 2016.

His various roles have included the Director of Governmental Affairs for The Trust for Public Land, a non-profit land conservation organization, and the legislative attorney for the Senate Committee on Environmental Preservation and Conservation, and the Senate Select Committee on Inland Waters. In addition to this board, he currently sits on the board of the Florida Wildlife Federation. He also served as the Executive Director of Resiliency Florida from 2016-2018.

He holds a master's degree in Marine Affairs and Policy and a law degree from the University of Miami. He has been a member of the Florida Bar in good standing since 2007.